'HOLY INNOCENTS' PARISH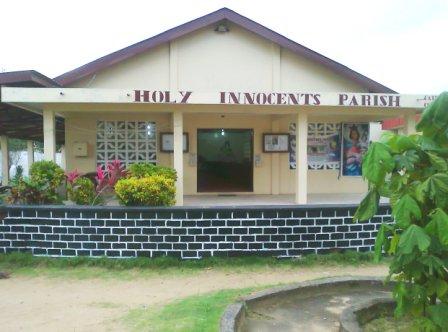 The Parish started on 1991 as small prayer group under the Multi-purpose Hall. As the group increased in number it became outstation of St Joseph parish only from1997 the Church was constructed and Fr Harris Blamoh who was resident in Matadi became acting Paarish Priest under Fr Harris O'Brien.
Holy Innocents Parish gained the Parish status on the year 2000, Fr Blamoh became the first Parish Priest and the Parish started keeping her own record such Baptism and Marriage Record.
In 1999 Mr Michael Sowah (the actual catechist) has been assigned to do Pastoral Work upon completion of his two hear catechist training.
VISION
TO LIVE IN CHRIST UNITED WITH GOD, TO LIVE AS ADOPTEN CHILDREN OF GOD IMITATING JESUS PERFECT MAN AND TRULY GOD, BEING LIKE DON BOSCO SIGNS AND BEARERS OF THE LOVE OF GOD TO YOUNG PEOPLE, UNDER THE MATERNAL GUIDANCE AND PROTECTION OF THE MARY HELP OF CHRISTIANS,

MISSION STATEMENT

TRANSFORMING THE SOCIETY IN A COMMUNITY OF LOVE.

Parish Priest: Fr. Nicola Ciarapica
Chaplain: Fr Mathew Udoka,
Deacon: Rev. Dn Raphael Airoboman
Catechist: Mr Michael Sowah
Co-Chairman Pastoral Council: Mr Abel Obarakpor
Parish Financial Committee Secretary: Madam Henrietta M Sumo

11th September, 2012 by don Nicola Ciarapica