A big thank you to all of you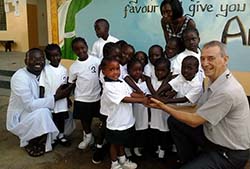 To all of you dear friends and benefactors, my personal thanks and those of the confreres and the children, boys, girls, and families who, because of your prompt generosity, survived the long period of the Ebola infection in Liberia.
We are now following in a special way the orphans who are the most vulnerable - first of all those who have lost their parents or guardians due to Ebola, and then the children of single mothers and poor families, of whom there are many. Remember that in our neighbourhood 70% of the population live in houses made of corrugated iron and live on what they earn from day to day.
There are at least 200 children and 50 families in particular need. We want to ensure that they have access to food, education and health services. With your contribution and your prayers you can help us to be truly caring fathers for these children.
May the Lord bless you and your loved ones!
Fr Nicholas Ciarapica
Monrovia November 14, 2015
15th November, 2015 by don Nicola Ciarapica